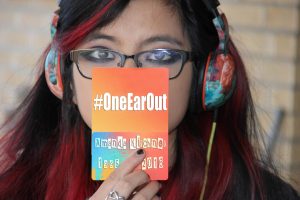 PLEASE SHARE and always keep #OneEarOut:
Our daughter, Amanda Kirchner, was killed on August 13th, 2016.
Colorful, independent and unique described Amanda. She was ready for all the challenges the world had to offer, moving out of our house just 10 days before her death. Amanda would have turned 21 on October 1st, 2016.
Our loved ones are being injured and killed from distracted headphone use. I hope sharing this story with your kids, family and friends might help save their lives or lead to a constructive discussion about keeping #OneEarOut.
Amanda was walking to work and what stood between work and her were train tracks. She was hit and killed by a train in Westminster, Colorado. Amanda was wearing her noise-cancelling headphones and didn't hear the train's warning horn.
She didn't just love music, it was her life. From an early age she could play music by just hearing it, saw colors in music, played percussion in the marching band and was studying to be an electronic music producer in college. Everywhere Amanda went she was listening to her music, usually with the volume all the way up. Music was so much a part of her identity that pictures of her, even her drawn portraits, show her wearing headphones. Wearing her headphones became an accessory to her style.
Parents always worry about their kids, always. We talked to Amanda about what she needed to prepare for life. Discussions about relationships, how to be successful, how to treat others, how to protect yourself and how to be safe in your surroundings. HEADPHONE use was always apart of those discussions. Hopefully, sharing her story might help you with a teachable moment for someone you care about.
We live in a world of distractions. It is easier to be distracted now than any other time in history. If you can't hear your surroundings, you are deaf to what is happening around you. 
Keep #OneEarOut while walking, cycling and driving. Let's also try to help others stay safe and spread the message. Have a discussion and end it with a hug for Amanda.
Please take a selfie with #OneEarOut and share your pledge to save lives. If you'd like to have your pictures featured on our website, send a copy to selfies @ OneEarOut . org. We reserve the right to reject any indecent or otherwise inappropriate content.